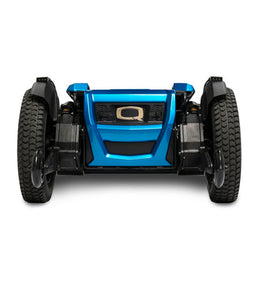 Quantum 4Front® Power Base
The 4Front® is a quiet, more responsive front-wheel drive power chair that features automotive-grade suspension with unprecedented comfort and ride quality. The 4Front®'s CASE (Caster Angle Sensor Encoder) technology and SRS (Smooth Ride Suspension) provide stability for smooth obstacle transitions and unmatched driving performance. The 4Front® features standard speeds of up to 6 mph in the lowered position, and speeds up to 3.2 mph while elevated at 10" with our optional safe seat elevation. Standard LED fender lights allow you to see and be seen.
Specifications
Drive Wheels

14" flat free
Optional: 14" Pneumatic, 14" Knobby

Caster Wheels

Rear: 9" flat free

Anti-Tip Wheels

Front: 4"

Maximum Speed4

Up to 9.6 km/h

Turning Radius5

21.75"

Overall Length

44.9"

Base Width

24.25"

Seating Sizes

TRU-Balance® 3
Synergy®/Static: W: 12-22" D: 12-22"
Power Tilt: W: 12-22" D: 12-22"
Lift & Tilt: W: 12-22" D: 12-22"

Seat-to-Floor Heights16

TRU-Balance® 3
Synergy®/Static8: 15.25-17.25"
Power Tilt8: 17.5-19.5"
Lift & Tilt8: 17.75-19.75"

Manual Recline10

Yes

Battery Size6

Group 24 or Group 34

Battery Weight14

Group 24: 51.5 lbs.
Group 34: 38.5 lbs.

Available Electronics12

120A Q-Logic 3 EX, Q-Logic 3

Battery Charger

8A Off-board

Motor Packages

Two-pole, front-wheel drive

Weight Capacity7

300 lbs.
---
We Also Recommend