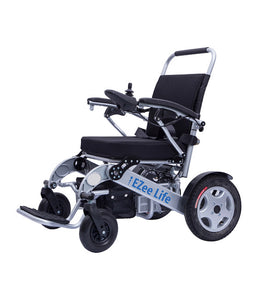 EZee Life Generation 2
The EZee Fold 2G electric wheelchair with 12" wheels is one of our newest 2nd Generation lightweight portable power wheelchairs with an easy folding frame for easy transport and travel but offers a range of up to 22 km. 
With a seat size of 18.5" x 18.5" and a seat height of 18.5" it's designed as a larger chair than the CH4051-CH4054 series chairs. It has a higher weight capacity of up to 150 kgs (330 lbs.). This chair will fit most average to large sized adults.
Specifications:
Overall size: 94 x 65 x 97.5 cm (L x W x H)
Folded size: 65 x 35 x 77.5 cm (L x W x H)
Packing Size: 70 x 50 x 86 cm (L x W x H)
Net Weight; 23 kg (50.7 lb)
Seat Depth: 40 cm (15 ¾")
Seat Width: 47 cm (18.5")
Seat Height (back): 47 cm (18.5")
Front wheel: 20.3 cm (8") 
Back wheel: 31.8 cm (12.5")
Driving Range: 22km (13.7 miles)
Max Speed: 6km/h (3.7 mph)
Weight Capacity: 150KG (330 lbs)
Turning Radius: 85 cm (33.5") 
Battery: 24V/7AH x 2 PCS 
Battery Weight: 1.4 kg each
Motor: 24V/250 W Brushless Motors
---
We Also Recommend