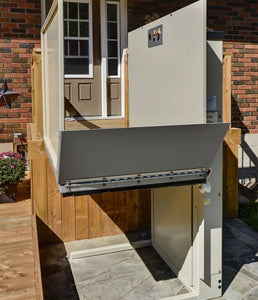 Vertical Platform Lift – Multilift
Durable construction: Ideal for indoor use or outdoors in moderate weather; includes weather-resistant lock.
Reliable operation: From the ACME screw drive with its precision movement and strength for day-to-day use. 
Easy to install: The self-enclosed drive tower makes the unit fast and easy to install.
Other standard features: Continuous pressure operation, keyed access on car, non-skid zinc-coated platform in three standard sizes, automatic access ramp.
Standard finish: Beige powder-coat paint.
Safety features: Emergency stop button on car, underpan obstruction sensors, non-skid platform, manual lowering crank, 42 1/8" (1070 mm) side panels, keyed cab buttons and keyed call stations, automatic access ramps, backup nut and backup nut safety switch.
Warranty: 36 months parts.

Specifications
Applications: Residential, indoors, outdoors
Standard capacity: 750 lb (340 kg)
Maximum travel distance: 48" (121.92 cm), optionally up to 72" (182.88 cm)
Nominal speed: 8 ft/min (0.04 m/s)
Drive/motor: ACME screw drive and back-up nut, 1 hp, relay logic controller
Power supply: 120 VAC, 15 A, 60 Hz, single phase (must be a dedicated electrical line).
*complies with ASME A18.1 (US), and B.355 & B.613 (Canada), state and local codes may differ
---
We Also Recommend