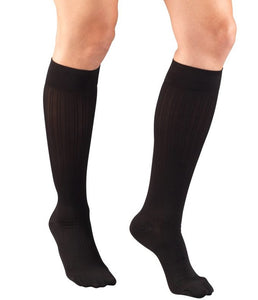 TRUFORM Women's Rib Pattern Trouser Socks 10-20 mmHg
The Truform company offers a great casual or semi-casual style option with these Ribbed Compression Socks for Women.
Like with any Women's Knee High Compression Therapy Sock, these stockings improve leg circulation and overall leg health by helping fatigued blood vessels return blood back to the heart. This extra circulation can reduce edema, leg pain, spider veins and lessen the symptoms of venous disorders.
Compression Therapy in this mild 10-20 mmHg range is also doctor recommended to improve circulation when standing or sitting for long periods of time.
---
We Also Recommend