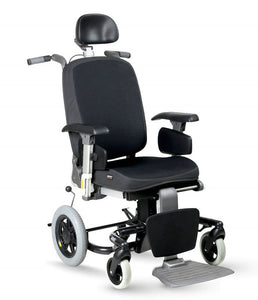 Iris Tilt Wheelchair
Looking for a tilt-in-space wheelchair that's robust, highly versatile and offers ultimate seating comfort?
Our multi-functional Ibis comfort wheelchair with Sedeo Pro seating system offers excellent adaptability and allows for easy customization to suit individual requirements, also in case of changing needs or re-use. While offering maximum comfort and excellent driving characteristics, users are encouraged to make maximum use of their own capabilities, thus enhancing independence.
Small wheels or large wheels?
Choose the configuration that suits your needs, or use the Ibis as carrier for a special seating system.
Specifications:
Width:66 / 70 / 74 cm (20" / 22"/ 24" wheels); 62.5 cm (12" / 16" wheels)
Length:104 cm
Folded Width:-
Seat Width:40 - 54 cm
Seat Depth:44 - 60 cm
Seat Height:32 - 47 cm (excl. cushion)
Seat Angle:0 - 6 °
Seat Tilt:30°
Backrest Height:50 - 64 cm
Back Recline:89 - 128 °
---
We Also Recommend